| | |
| --- | --- |
| Posted by Dan Hausel on August 23, 2017 at 3:55 PM | |
A beautiful, flawless pink diamond known as the "Pink Star" broke the record for a gemstone sold at auction when it fetched $71.2 million in Hong Kong. The 59.60-carat "Pink Star", the largest in its class ever graded by the Gemological Institute of America, was sold to Chow Tai Fook jewellery.
The sparkling oval-cut diamond is 2.69 by 2.06 centimetres (1.06 by 0.81 inches) and weighs 11.92 grams (0.026 pounds). It was 132.5 carats in the rough when it was mined by De Beers in South Africa in 1999, according to Sotheby´s. The stone was cut and polished over two years.
A 12.03-carat "Blue Moon of Josephine" was bought for the then-record price of $48.4 million in Geneva by Hong Kong property tycoon Joseph Lau in 2015, a day after he spent $28.5 million on a rare 16.08-carat pink diamond.
The previous record for a jewel successfully sold at auction was $57.54 million in May 2016 for the 14.62-carat "Oppenheimer Blue" sold by Christie´s in Geneva (modified from 
https://www.geologyin.com/2017/08/pink-star-diamond-worlds-most-expensive.html)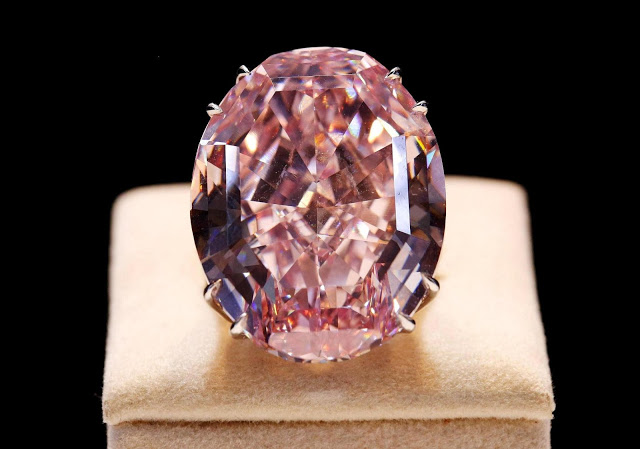 Categories: Gemstone Discoveries, Diamond Exploration and Prospecting