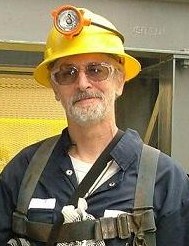 Arizona geologist and martial arts instructor, Dan Hausel, was notified by Fred Marks, Editor-in-Chief of Marquis Who's Who of his inclusion in the forthcoming 68th Edition of Who's Who in America 2014. Hausel was first selected as a Who's Who honoree more than 25 years ago and has since appeared in many biographical compendiums celebrating his accomplishments and achievements as a martial arts instructor, scientist, writer, artist, public speaker, astronomer and musician.
The laureate martial arts instructor has also been inducted into 16 Halls of Fame since 1998. These include the World Martial Arts Black Belt Hall-of-Fame, Action Martial Arts Magazine's Hall of Honors, World Head of Society Hall of Fame, American Karate Association Hall of Fame, Latin America Martial Arts Society Worldwide Hall of Fame, North American Black Belt Hall of Fame, World Karate Union Hall of Fame, National Rock Hound & Lapidary Hall of Fame, Millennium Hall of Fame and others.
He began training in martial arts in the early 1960s. In 1999, he reached the highest level in martial arts when awarded certification as sokeshodai (grandmaster) and kudan (9th degree black belt) at the Juko Kai International hombu (world administrative headquarters). At that time, he was teaching karate, kobudo, jujutsu, samurai arts and self-defense the University of Wyoming while working as a research geologist.
Over three decades he discovered many mineral deposits (precious and base metals, colored gemstones and diamonds) and was awarded economic geology's highest honor with six other geologists in 2009 – the Prospectors and Developers Association of Canada's (PDAC) Thayer Lindsley Award for a major international mineral discovery. He authored nearly 1,000 books, papers, maps and abstracts on prospecting, geology and martial arts, mapped more than 1,000 square kilometers of complex geology and traveled around North America presenting more than 400 lectures on geology as a distinguished lecturer. But because of his research contract, he was unable to financially benefit from any of his mineral discoveries or books including one of the largest gold deposits ever to be found in North America (Donlin Creek, Alaska), a previously unrecognized gold district (Rattlesnake Hills district, Wyoming) and significant gemstone deposits. He found dozens of diamond deposits..
In 2004, he received an unprecedented promotion to judan (10th degree black belt) making him one of a very few martial artists in the world to achieve that rank. In 2012, he received a one of a kind award: he was promoted to junidan (12th dan) and is only one of a handful of martial artists in history to be awarded that rank.
Grandmaster Hausel in currently head instructor of the Arizona School of Traditional Karate located on Baseline at the border of Mesa and Gilbert, and the world head of Seiyo No Shorin-Ryu Karate Kobudo Kai. He is a former instructor of martial arts at Arizona State University, the University of New Mexico, the University of Utah and the University of Wyoming and has taught martial arts to many teachers, professors, librarians, scientists, PhDs, engineers and social scientists.
Categories: Gold Discoveries, Gemstone Discoveries, Diamond Exploration and Prospecting