Gemstone prospector and geologist Dan Hausel, has been selected for international recognition in 2017. It has been an amazing year for the Arizona martial arts instructor and geologist. Grandmaster Dan Hausel has been selected for awards that acknowledge lifelong dedication to geology, writing and martial arts. Along with General Colin Powell, Hausel has been selected for the Albert Nelson Marquis Who's Who Lifetime Achievement Award. Grandmaster Hausel was also selected for induction in Who's Who in Martial Arts.

Earlier, Hausel was notified of selection to Great Men & Women of Science and for the Cambridge Certificate for Outstanding Scientific Achievement. In addition to finding many gem and gold deposits, Hausel published hundreds of books and papers on geology.
In the past week, he was notified of his selection for Best Martial Arts Teachers in Phoenix award for his expertise. Grandmaster Hausel has been training in martial arts for more than 50 years and taught martial arts for more than 3 decades at the University of Wyoming prior to moving to the valley and first teaching at ASU before opening the Arizona Hombu dojo in Mesa. He has also been a geologist for 45 years and made many significant gemstone, gold and diamond discoveries as well as publishing hundreds of books, papers and abstracts mostly on the geological sciences.
Hausel state that if any of you would have known me growing up - you would likely be in shock and comment that this must be a miracle! And you would be right. This is all a miracle - a gift from God.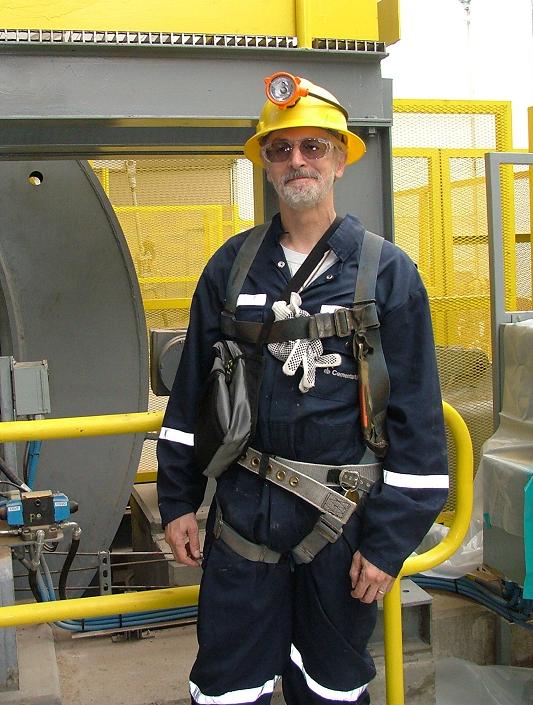 Press Release - March 22nd, 2017
Gilbert, Arizona Karate & Kobudo Grandmaster Recognized for Outstanding Scientific Achievement
Sounds strange? A karate and kobudo instructor selected for an award for science? Actually, it is common place for one person.
Grandmaster Dan Hausel is a polymath - a person who reached the highest level of achievement in more than one discipline. In fact, twice in the past while at the University of Wyoming and working for the Wyoming Geological Survey, he was inducted into Halls-of-Fame for contributions to martial arts and geological sciences in the same year. And several years, Marquis Who's Who recognized him for accomplishments in martial arts, geological sciences, writing, art and public speaking.
As a martial artist, Hausel reached the highest level in 1999, when appointed the Grandmaster of Seiyo Kai Shorin-Ryu Karate and Kobudo(TM) while at the University of Wyoming after more than 3 decades in martial arts. Today, he continues to teach martial arts in Mesa, Arizona.
As a geo-scientist, he authored hundreds of papers and books on geology and mineral deposits, identified hundreds of gold, diamond and gemstone deposits and anomalies while at the Wyoming Geological Survey. In 2009, he and six of his colleagues were recognized for discovery of one of the largest gold deposits on earth found at Donlin Creek, Alaska in 1988. At the time, he was on leave from the Wyoming Geological Survey and consulting for WestGold, a subsidiary of DeBeers. Today, he continues writing books on prospecting and geology, and consults for mining companies while contributing articles to the Prospecting and Mining Journal.
So, this Grandmaster and Geologist has been selected for the Cambridge Certificate for Outstanding Scientific Achievement. by the International Biographical Institute. IBC is associated with the City of Cambridge and with Cambridge University in Great Britain. 
For more information, contact: Nicholas Law, Director General, International Biographical Centre, England or contact W. Dan Hausel.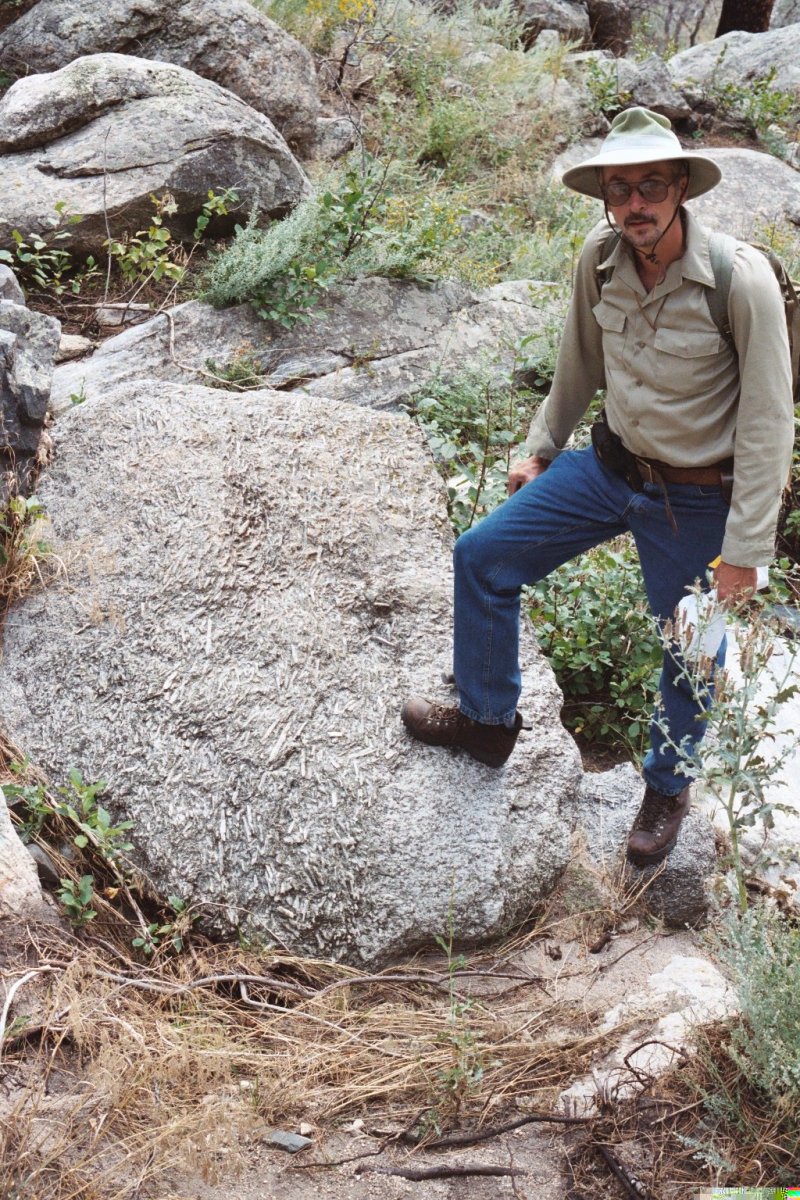 W. Dan Hausel with foot on boulder filled with gem kyanite, ruby and sapphire taken after his discovery of some of the largest colored gemstone deposits of iolite gems found on earth. This photo appeared on the cover of the ICMJ Prospecting and Mining Journal.
August, 2016
W. Dan Hausel, will be honored by induction into the 1st edition of the biographical reference "Great Men and Women of Science" scheduled for release in high-profile libraries and research institutes worldwide in 2017. This book, published by the IBC in Cambridge, England, will also include biographies of legendary 20th and 21st century scientists and engineers such as Albert Einstein, Stephen Hawking, Steve Wozniak, Elon Musk, Marie Curie, Edward Hubble, Nikola Tesla and Carl Sagan. Professor Hausel will now stand with these historical greats in the world of science. 
Although most scientists in the upcoming biographical reference are theorietical geniuses, Professor Hausel is a pragmatic scientist who brought the State of Wyoming from a mineralogical wasteland to a gemological treasure trove. In 3 decades, he found dozens of gold, colored gemstone, rare minerals, and diamond deposits in a place that was not known for these treasures. In Alaska when he and six other geologists found one of the largest gold deposits on earth and won the Thayer Lindsey Award for this achievement. Hausel also mapped more than 1,000 square kilometers of complex geological terrain in Wyoming and Alaska, and authored or co-authored more than 1,000 scientific papers, abstracts, geological maps and books.
Hausel, also known as the GemHunter and Soke, is known for his uncanny ability to find new mineral deposits. Along with 6 other geologists, Hausel discoveried the Donlin Creek, Alaska gold deposit - one of the largest gold deposits ever found in history - as an example, the Donlin Creek gold deposit contains 400 times more gold than was mined during the entire history of Wyoming!. He also discovered the Rattlesnake Hills gold district in Wyoming along with hundreds of other gold anomalies, gemstones and diamonds. He is a grandmaster of martial arts and holds one of the highest ranks in karate and kobudo. Hausel states, "I have been blessed by God, as I am not genius, I have just been given opportunities to do what I love to do in this life".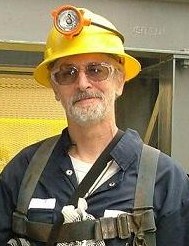 Hausel prepares to go underground in Arizona.
Hausel has been honored by a group of Hall of Fames as a martial arts instructor, author, artist, geologist and public speaker. While at the Wyoming Geological Survey at the University of Wyoming, Hausel was honored with dozens of local, regional and national awards for his contributions to the geological sciences, public speaking, and martial arts. He was inducted into the National Rock Hound Hall of Fame, the National Black Belt Hall of Fame, the World Black Belt Hall of Fame and several others. He was presented Meijin Wajutsu by Dai Soke Sacharnoski of Juko Kai International which translates as "Martial arts genius".
Retired from the Wyoming Geological Survey, Hausel continues to work as a geological consultant and teach martial arts. He recently worked as Vice President of US Exploration for DiamonEx Ltd from Australia, where he found more than a hundred diamond anomallies, and currently is Vice President of Ferris-Haggarty Mining Company from Bulgaria. He is the Sokeshodai (Grandmaster) of Shorin-Ryu Karate and Kobudo (Seiyo-Kai) and holds black belt ranks in several martial arts including a nijudan (12th degree black belt) in shorin-ryu karate.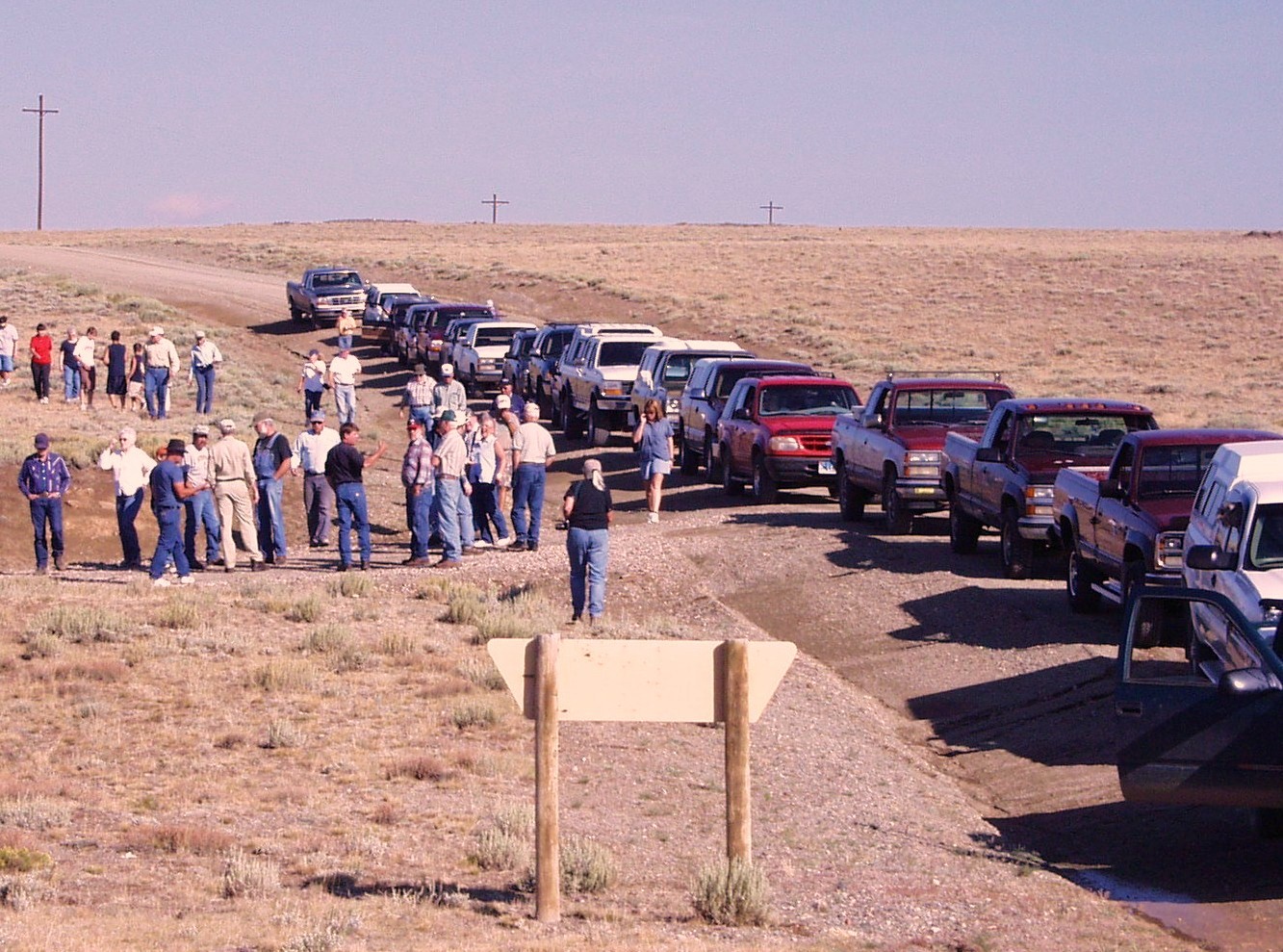 A traffic jam in the Wyoming desert. Dan Hausel leads field trip to the South Pass greenstone belt and gold deposits in the Wind River Mountains. Photo by Wyoming Representative - David Miller. Over 30 years, a few  thousand people attended Professor Hausel's field trips, talks and lectures.
W. Dan Hausel, often took his own time on weekends to educate the public on geology, prospecting, rock hounding, hunting gold, diamonds and other gemstones while working for the Wyoming Geological Survey at the University of Wyoming. Over 3 decades, he presented more than 400 talks, clinics, short courses and very popular field trips and attracted hundreds of prospectors, rock hounds and even mining companies to the Wyoming Craton. Although the last geological survey director he worked for didn't think he knew how to communicate, Hausel was presented regional and national awards for communication, was inducted into two Halls-of-Fame for communication and geology, and published more than 1000 abstracts, books, maps, professional papers and magazine articles communicating to a number of people who visited Wyoming to find their personal treasure. While doing this work, he also mapped more than 650 square miles of complex geological terrain.
He started modern day gold rushes after finding significant amounts of gold in the Seminoe Mountains, the Rattlesnake Hills, South Pass and the Black Hills. Then he put Wyoming on the map after finding dozens of different types ot gemstones that were unknown to the region. When he left the Geological Survey in 2007, he was on the trail to discovering more gemstone and gold deposits.
Even so, he had already found a variety of gemstones in a region that was unknown for these precious stones, found some of the largest gemstones in the world, and identified a couple of world class gemstone deposits. In addition, his work led to the discovery of significant gold mineralization at the Carissa gold mine at South Pass, the Rattlesnake Hills greenstone belt, the Copper King and other localities. He also identified hundreds of cryptovolcanic structures that remain unexplored for diamonds and genesis. Then, a group of seven geologists (including Hausel) made a discovery of one of the largest gold deposits in North America - Donlin Creek, Alaska. This gold deposit is so big, that it contains more than twice the amount of gold mined in history of the Klondike and more than 120 times the amount of gold mined throughout the entire history of Wyoming. After making the discovery in 1987 and 1988, the group of geologists (which included 3 from Wyoming) were presented one of the most prestigeous awards in Economic Geology - the https://en.wikipedia.org/wiki/Prospectors_%26_Developers_Association_of_Canada" target="_blank">PDAC Thayer Lindsley Award for a major international mineral discovery.
Nicholas S. Law, Director General for the Awards Board for the International Biographical Center in Cambridge England wrote to Dan Hausel of Gilbert Arizona on June 26th, 2015:
"To achieve what you have, to scale the heights from which you inspire and lead by the standards you have attained are no ordinary accomplishments … As an existing Man of the Year the Awards Board of the IBC have decided to bestow on you, as respected and trusted friend of the IBC, the auspicious and beautiful Da Vinci Diamond." 
"Leonardo Da Vinci was chosen as the inspiration for the award due to his world renowned accomplishments in many different disciplines. I feel most reassured that by selecting you as the Da Vinci Laureate in recognition of your varied talents we are keeping to the register of his memory…"
"….Your avocation, enthusiasm and reputation are responsible for this magnificent recognition."
This award is ironic in that you have are known as the GemHunter and Diamond Hunter and are responsible for finding several diamond deposits, geological mapping a group of diamond districts, and publishing many articles and books on diamond depoists. It is also notable that you have accumulated a bibliography of almost unachievable size - author of more than 1,000 publications; author, co-author and contributor to 100 books.
As a geoscientist, you inspired many people with your discoveries, i.e, one of the largest gold deposits in the world, some of the largest colored gemstone deposits ever to be found, mapped and found diamond deposits and as a public speaker, you presented lectures all over North America. You mapped more than 1,000 square kilometers of geological terrain and an artist of vision with dozens of detailed works. And your martial arts achievements are as impressive as your geological, writing, art and public speaking achievements. As a martial artist, you reached the highest rank in the world in Shorin-Ryu Karate (Seiyo-Kai), were certified as Sokeshodai (grandmaster), and was awarded Martial Arts Genius for your many accomplishments over five decades. Other national and international associations inducted you into 16 halls of fame for unmatched martial arts and teaching skills, geological knowledge, and more. Congratulatioins!
In response, Professor Hausel acknowledged his support over the years by Dr. Daniel Miller, Gary Glass, Dr. Don Blackstone (former State Geologists) and Dr. Robert Houston (former Geology Department Head). He also praised God and Christ for providing him with opportunities to express his thoughts and research. Much of his research was recently summarized in two books - one on Gold and the other on Gemstones.