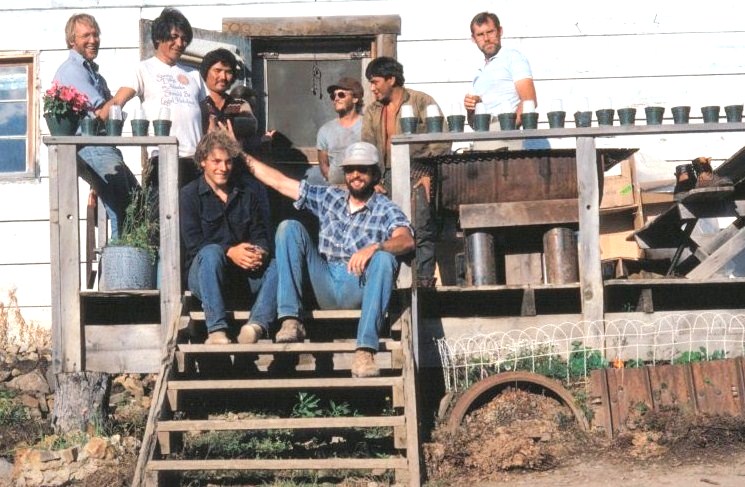 The Northern Miner (Feb. 11-17, 2013) described Donlin Creek as a MONSTER GOLD DEPOSIT with more than 43 million ounces of gold reserves! In addition, gold resources are suggested to include another 140 million inferred ounces and only about 40% of the gold-bearing intrusive has been drilled to date, making this already one of the 10 largest gold deposits ever found - by time the entire deposit is drilled and mined, it could easily end up being one of the largest gold deposits every to be found in all of human history!
To understand how big this gold deposit is, try comparing it to one of the more extraordinary world-class gold deposits in history: the Homestake mine in South Dakota. The Homestake operated for 123 years making it one of the longest lived gold mines in history. Production at the Homestake began in 1878 and ceased in 2001 after the mine produced 39.8 million ounces of gold. The Homestake was also one of the longest listed stocks on the NYSE! But, this one gold deposit in Alaska, dwarfs the Homestake, and has more than 4.5 times the amount of gold!
The Northern Miner reported the Donlin Creek to be the largest undeveloped gold deposit in the world! Imagine finding such a giant gold deposit.
For seven geologists, this was a discovery of a lifetime - how many people in history can claim discovery of such a monster gold deposit? Those seven geologists were honored at the 2009 PDAC Convention in Toronto Canada.
Just how big is this monster gold deposit? Here are some statistics to think about. To help put this gold deposit in the proper perspective, compare the 43.5 million ounce gold resource at Donlin Creek to various gold states. Then compare the resource and inferred gold deposit to all of these. 
The Donlin Creek Gold discovery...
Contains 10 times more gold than was mined during the entire mining history of Arizona from 1774 to the present!
Has 4.5 times more gold than has been mined in Alaska from 1848 to the present!
Contains 1.5 times more gold than mined in California during its entire mining history!
Has 3.6 times more gold than was mined in Colorado during its entire mining history!
Contains 206 times more gold than was mined in https://en.wikipedia.org/wiki/Georgia_Gold_Rush" target="_blank">Georgia from 1839 to the present (870,000 ounces)!
Contains 18 times more gold than was mined in Montana from 1852 to present!

Has 150 times more gold than was mined in North Carolina from 1799 to the present (1.2 million ounces)!

Has more gold than has been mined in Nevada from 1852 to the present (152 million ounces)!

Contains 19 times more gold than mined in during the entire history of Oregon (9.3 million ounces of historical production)!

Has ten times more gold mined in the entire history of Utah (more than 17.7 million ounces)!

Contains

 467 times more gold than was mined during the entire history of Wyoming (385,000 ounces)!
Even the Klondike can't compare. All of the gold mined in the Klondike (18.3 million ounces) is only 1/10th of the amount of gold drilled at Donlin Creek! 
It was discovered by seven geologists working for WestGold (Anglo American and DeBeers subsidary) and included three from Wyoming: Mark Bronston, Dr. Paul Graff, and W. Dan Hausel. The other geologists who contributed to the discovery included Richard Garnett, Bruce Hickok (RIP), Tony Hinderman and Robert Retherford. Some of these geologists went on to make other discoveries, W. Dan Hausel in particular, made many other gold and gemstone discoveries following the Alaskan discovery and has become one of the greatest mineral discoveries in history. None of the geologists monetarily benefited from the gold discovery and only recovered wages, but had a wonderful time.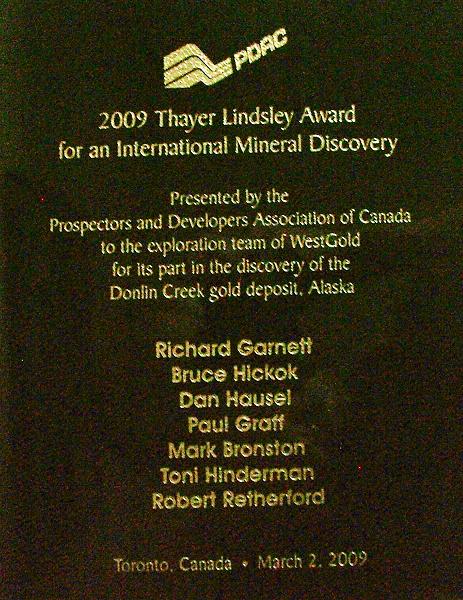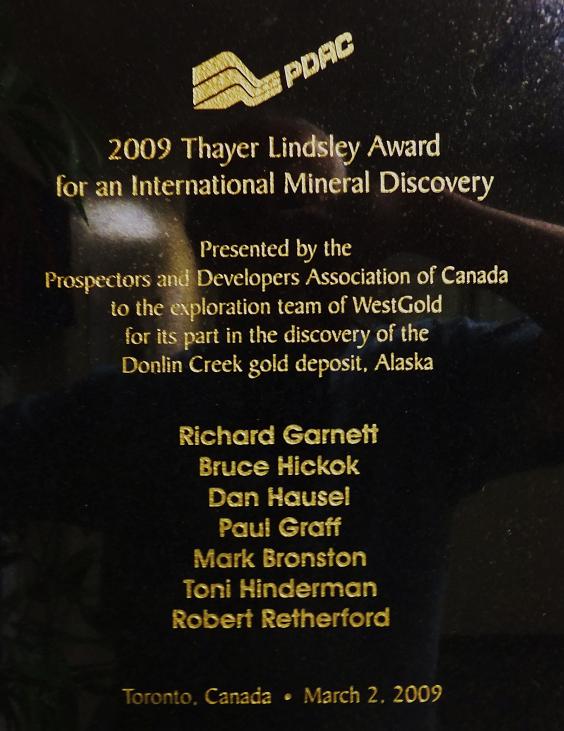 W. Dan Hausel recounted discovery of the Donlin Creek gold deposit in Alaska as a member of a 7-geologist team who were later awarded the Thayer Lindsely Award for an International Mineral Discovery by the Prospector's and Developer's Association in Canada in 2009. In 1988, he and six other geologists discovered a Monster Gold Deposit in the Kuskokwim Mountains of Southwestern Alaska described by Northern Miner News as the largest undeveloped gold deposit in the world! Hausel, who was on leave from the Wyoming Geological Survey at the time, was consulting for WestGold, a subsidiary of Anglo-American and DeBeers.
The Northern Miner (v.98, no.52, 2013) reported Donlin Creek to have more than 43 million ounces of contained gold! As a comparison, the Homestake gold mine which operated for 123 years from 1878 to 2001, produced 39.8 million ounces of gold and had one of the longest surviving stocks in history on the NYSE. Donlin Creek has stepped up as the new measuring stick for all gold miners in the world. The mine is currently in the final stages of permitting, envisioned to be the largest gold mine in the world.
Hausel is also a Hall of Fame martial artist and found himself at the top of the martial arts world in 2012.  In December 2012 he was promoted to the highest ranked Shorin-Ryu martial artist. Shorin-Ryu is the traditional Okinawa form of karate developed many centuries ago. In 2004, Hausel was promoted to Judan (10th degree black belt) in Shorin-Ryu karate, a rank only achieved by a very small, select group of martial artists from Okinawa. Rarely has a non-Asian reached this level in karate. In 2012 he received an unprecedented promotion to Junidan (12th degree black belt) that has only been awarded to a handful of martial artists in history.
He also recently published another book with his son Eric entitled "GOLD". Dan is an author of nearly 1,000 books, professional papers, maps, popular articles and abstracts.
It is rare for a geologist to make a new discovery, and even rarer for a geologist to discover a whole new gold district, particularly when the district is located not very far west of the State's largest city (Casper). But, in 1981, the University of Wyoming Engineering Dept contacted me - they were interested in establishing a federal grant to investigate methods for gold extraction and needed a disseminated gold deposit. So they provided me with a few dollars and off I went. One of the places I had in mind was the Rattlesnake Hills. This region had been investigated in a group of MS and PhD projects, but none recognized the gold potential.
For me, this an obvious choice for gold. It was a greenstone belt similar to greenstone belts elsewhere in the world. Gold was so common in Archean greenstone belts around the world  that the terms greenstone belt and gold belt had been used interchangably by some authors in Canada and Australia. The Rattlesnake Hills had another thing going for it that the other belts did not. It had been intruded by several Tertiary volcanic dikes and pipes which likely provided heat engines to leach gold from the base of the greenstone belt and focus the precious metal into veins, shear zones, stockworks and breccias. So this was my number one project.
When I drove into the Rattlesnake Hills, it took a little time, but I found a pyritized vein system that I could trace for more than a mile on the surface. I took samples of this material. Next I investigated other veins, a stockworks in the basal gneiss and found breccias around some of the Tertiary stocks. The samples I took back to the lab contained gold - I had identified a new gold district missed by everyone else.
It was important to map this district. So over the next several years, I finally got a little more support to map this district thanks to the State Geologist (Gary Glass) and to establish this area to have very high potential for major, hidden gold deposits. Recently it was reported that one company working in this district at one of my favorite targets, a very large breccia along the flanks of Sandy Mountain and Oshihan Hill identified commercial amounts of gold. It took 30 years, but what the heck, gold is gold and this may turn into Wyoming's first hard rock gold mine in decades.
It is likely this district will produce several million ounces of gold. And what did I get? I published several papers on the area and later was harassed by one of the poorest excuses of a State Geologist and human being. Harassed so much I left the Survey for an Australian diamond company. So, Wyoming got the gold and I got the shaft - sounds like a great title for a country and western song. But I must say, I did get some memories, publications and experience - this is worth more than any amount of money to me.